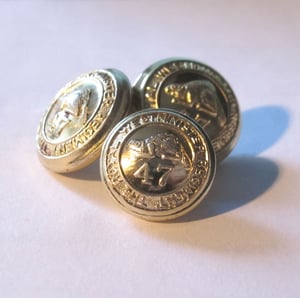 $

20.00
Regimental buttons for the Royal Westminster Regiment DEU tunic. These are brass and come as a set of eight: four large buttons for the tunic proper and n four smaller buttons (two buttons for the tunic pockets and 2 for the epaulets)
See options for purchasing buttons individually or in different quantities.
The relief on the button has a beaver, a motif of our engineering roots and the number 47, paying homage to the 47th Battalion.
Use the Discount Code PICKUP if you want to pick up your order at the regiment instead of paying for shipping. More here
Availability
Set of 8 Buttons (DEUs) - 18% in stock

Individual Large Button 30L - 20% in stock

Individual Small Button 26L - 10% in stock